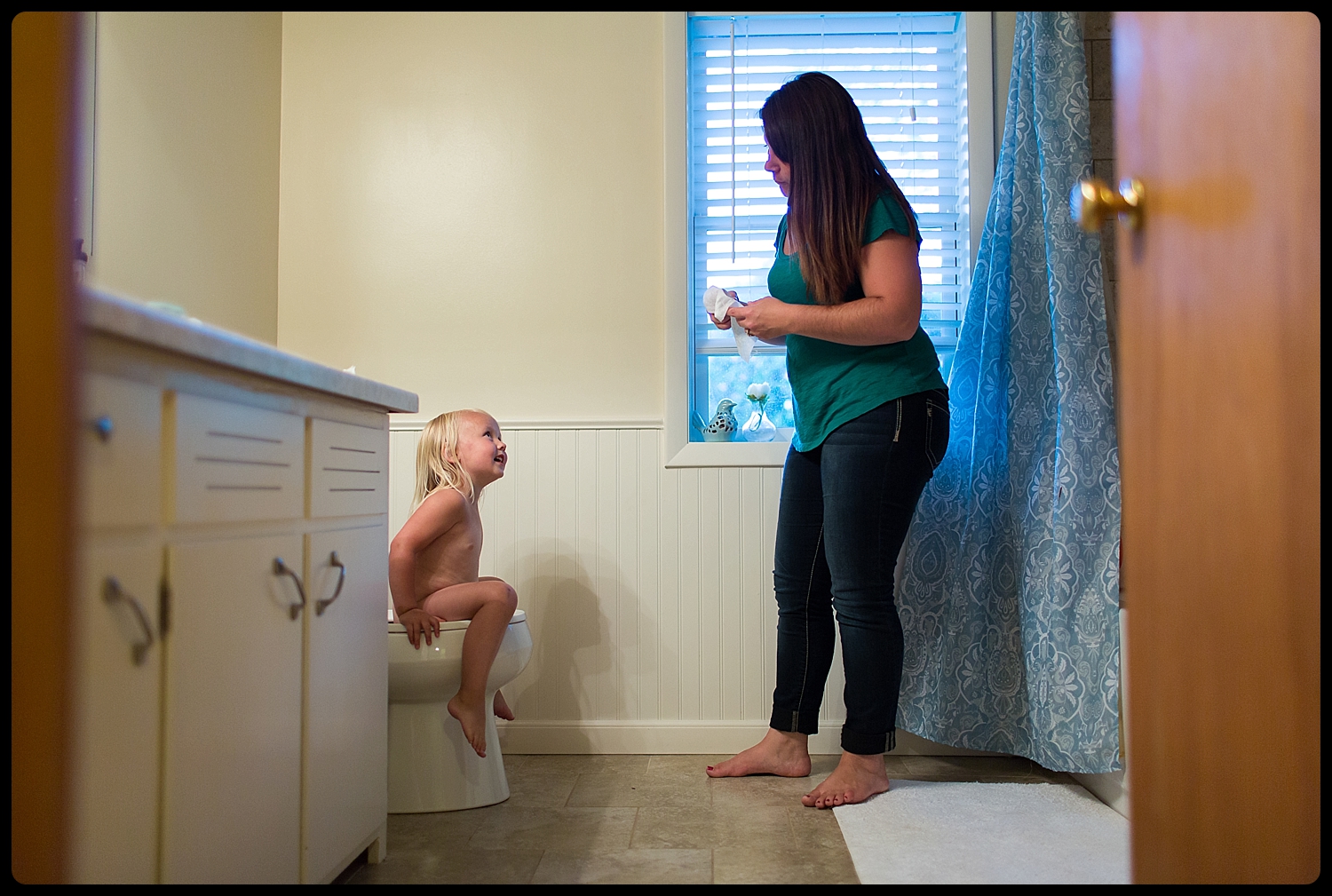 One of the best things about Storytelling Documentary Sessions, is how easy and fun they are! You don't have to pretend to be anything other than who you are. Wear what you always wear, do what you normally do, and don't even bother looking at the camera.
These sessions are perfect for just about anything you can imagine. Here are just a few ideas to get you thinking, but the list is endless!
Date night with your hubby
Preparing the nursery for your newborn
Your great grandmother's 100th birthday party
Baking cookies with your toddler
An entire day in your life
Your child's first trip to the movie theater
Teaching your son to drive
Family bonfire
Board game night
Family photos don't need to be of a milestone or a special day! In the end it's the small everyday moments that are most important. It does take a little courage to allow someone to come to your home and document your family just as you are. But I promise that these honest moments are going to be the ones that you will treasure more than anything else! It's real life! It's your unique traits, and daily routines. It's pressing pause on this one day to record your family's memories, and be able to replay them for forever.
Here's how a typical session goes down:
+ Before
You contact me and let me know that you'd like to book a session. I send you a link to my session guide with more info, and details on pricing. We select a date, and I email you a link to the Eco-friendly portrait agreement & model release to sign electronically, as well as a link to pay your session retainer.
Once you've signed and paid, I send you a link to your questionnaire. Take your time with this...your answers really help me get to know you, and find out what is important to capture. The more details, the better!
We email to discuss ideas on activities for your session based on your answers, and decide on the best time and place for me to arrive.
+ During
I arrive at your home or on location (probably in jeans and t-shirt with my hair up and a BIG mug of coffee). If you have children, I'll introduce myself and make sure they feel comfortable. I'll have them give me a tour of your home so I can view the light and rooms that I'll be working in. Then I do my best to blend in, as if I'm another family member. I am quiet most of the time (aside from that shutter click!) to allow you to do what you always do, but that doesn't mean I won't talk to you or get silly with the kids. We'll have fun!
+ After
About 2-3 weeks after your session, you'll be emailed a link to a (password-protected) blog post I've written about our session. Once I have your approval on the post, I'll remove the password protection so that you can share it with family & friends. And then...get excited!!... About 1-2 weeks after this, you'll receive a link to your online gallery (if I took photos at our session), and/or a link to your family film (If I took video)!
If our session included photos, you'll receive an email with a link to your password protected online proofing gallery. This will be active for 1 week and can be shared with family & friends. I am always available to answer any questions you may have, help you to plan wall art, or whatever you may need! The proofing gallery allows you to order a gorgeous Heirloom Album, or museum grade prints and other unique products through my professional lab if you'd like, but there is no order requirement. I don't want you to have to stress about which images you can afford, or which you'll have to live without. Each are important in telling your story, and I want you to have them all! That is why your gallery allows you to download ALL of your photos as digital images along with a print release to your computer, so that you can upload them to an online lab and print whatever you'd like, whenever you'd like!
If our session includes a family film, you'll receive a link to view it by email. This will allow you to share it with friends and family, as well as download and save it to your computer. You can then make as many copies as you need, or save it to a thumb drive to watch in high definition nice and large on your TV, forevermore!
You'll have everything in your hands within 3-4 weeks from your session date.
+ What are "Digital Images"?
Digital images are simply the high resolution digital file of your photos with the printing rights, so you are free to share and print to your heart's content today, tomorrow, or 10 years from now! You'll be able to download ALL of them directly from your proofing gallery.
+ Isn't my house too small & dark?
No! Not many of us live in grand magazine-worthy mansions... or even in homes with large rooms and lots of light. I am documenting your truth. Your kids will want to remember what their childhood home looked and felt like, and they'll remember that it wasn't always clean! It's okay! Maybe even preferred...I shoot in a way that puts the focus on your story. Your home is part of that story, and it really is beautiful, just the way it is.
+ What if we're kind of boring? We don't really do anything fun or special. We watch a lot of TV.
Perfect! I know it can seem that way at times when you're living it, but trust me...there are so many meaningful moments and connection in your boring ordinary! Your story is much more interesting and beautiful than you think.
+ I'm afraid I won't look good in these types of photos. Should I wait until I lose 15lbs?
Absolutely not! I think we can all relate to wishing we looked better somehow, and I will always do my best to take photos that flatter you. But I don't take photos of the way people look. I take photos of the way people love. Your kids and hubby love you and think you're perfect just the way you are!! Listen, you could wait forever to come up with more money, lose weight, redecorate your home, but the truth is that life won't wait for you. And here is what you may be forgetting: these photos aren't just for you. These photos will be a precious keepsake to your children one day, and they won't look at them and think "gee, mom should have lost some weight". They'll see their childhood, and the parents that they treasure. These photos are proof that you love, and are loved. Doesn't that mean more to you than how much you weigh, or what your hair or family room looks like currently? If it doesn't yet, it will one day...
+ We have pets. Are you allergic?
I LOVE pets! Pets are important members of your family, and you can bet they'll be documented in your story. I'm only slightly allergic to long-haired cats, but only if I pick them up and snuggle them. Which I will probably do! Ha. Don't worry. I'll only be a little red & itchy for a bit.
+ Do you offer mini sessions?
No, this is not conducive to my style. I am after a beautiful collection of images that tell your story, not just one or two great shots.
+ Do we have to feed you?
Nope! No need. I'm happy to bring my own food/snacks.
+ Can I upload my photos to Facebook or Instagram?
You sure can! After your session you'll be able to download the digital images (sized for sharing on social media w/my logo) from your proofing gallery. Please tag the BKP Facebook page, or tag #BobbiKPhotography on Instagram when sharing, and do not crop or edit the images in any way. This includes adding filters, etc.